Hudson's Signing Table
Because so many folks have sent books to me for signing and personalizing I decided to make it easier by offering signed copies right here. Just print out the order form below, fill it out and return it with your check or money order and we'll send your signed copy out to you right away. Please feel free to let me know if you would like it personalized and to whom.
Listed below are the books currently available for signing. Eventually, we'll add prints, posters, and other items but we're starting with the titles most frequently requested.
Thanks very much!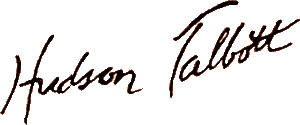 #13 US $ 17.99 hardcover



River of Dreams: The Story of the Hudson River

The Hudson River has been a source of inspiration and a means of livelihood to all who have lived along its shores. It played a key role in the settling of the New World and the outcome of the Revolutionary War, and was the birthplace of the environmental movement. Now Hudson Talbott pays homage to the river that shares his name in a gorgeously illustrated, fascinating account of the river's history.


#12 US $ 17.99 hardcover



United Tweets of America: 50 State BirdsTheir Stories, Their Glories

A hilarious tribute to state birds! Welcome to the United Tweets Pageant! This colorful parade of state birds competing to be Top Tweet will have readers of all ages laughing aloud. From Alabama?s Yellowhammer to Wyoming?s Western Meadowlark, each bird is a winner?and each bird loves to show off the state it calls home. Hudson Talbott has created an inspired introduction to states and their birds. His vibrant, detailed illustrations infuse the birds? interactions with energy and humor, making this a great way to spark kids? interest in United States history, geography, and, of course, wildlife!


#11 US $ 18.00 hardcover



SAFARI JOURNAL

Come along with Carey and his 12-year-old Maasai friend, Pilot, on their journey through the heart of wild Kenya. Discover the ways of tracking wildlife. Learn Swahili. Dodge a wildebeest migration. Jump into the Maasai way of life. And join Carey and Pilot as they take on an international ring of animal poachers - seeking the coveted rhino horn.


#10 US$16.99 hardcover



THE LOST COLONY

The Lost Colony of Roanoke is one of the most puzzling mysteries in America's history. In 1587, 115 colonists sailed to the New World, eager to build the brand-new Cittie of Raleigh, only to disappear practically without a trace.

Where did they go?

What could have possibly happened?


#09 US$16.99 hardcover


LEONARDO'S HORSE

"Leonardo's Horse", with text by Jean Fritz, is the story of the sculpture's journey over 500 years, from the dream of a genius to the realization by many appreciative admirers. The book has received starred reviews from Publishers Weekly, Kirkus, Booklist, and The Bulletin, and was featured in the New York Times Children's Books supplement.


#08 US $ 15.99 hardcover



FORGING FREEDOM

What do you do when you see your friends, your neighbors, your teachers, and your classmates being taken away by Nazi soldiers? For Jaap Penraat there was no choice. he knew he must act quickly as the Nazis tightened their stranglehold on Amsterdam's Jewish community. This true story of heroism tells how Jaap's creative thinking and nerves of steel enabled him to rescue over 400 of his countrymen from the Nazi terror.


#07 US $20 softcover



INTO THE WOODS

Once upon a time... Those four words begin any number of coming-of-age stories where characters such as Cinderella, Jack (of the beanstalk fame), and the girl with the red cape learn some very real -- and often painful -- lessons on the way to growing up. Hudson's illustrations accompany his novelization of the now legendary Broadway musical by the Pulitzer Prize-winning team of Stephen Sondheim and James Lapine. In honor of the revival of the musical now running on Broadway, Simon and Schuster has published a soft-cover edition of the book.


#06 US $18.95 hardcover



THE SWORD IN THE STONE

When an unknown country lad named Arthur attends a grand tournament in London as a squire to his stepbrother, Sir Kay, he inadvertently stumbles upon the true reason for the journey: to fulfill his destiny as the High King of all Britain. The first in Hudson's King Arthur series, The Sword in the Stone sets in motion the legendary adventure of Camelot, as Arthur heeds the call to his own greatness.


#05 US $17.95 hardcover



KING ARTHUR AND THE ROUND TABLE

The crown has barely touched his head when Arthur, now the sixteen-year-old High King of all Britain, is faced with rebellion and civil war. Reluctant to fight his own people, but determined to lead them, he must unite the rival lesser kingdoms he has been called upon to rule. But how can he expect the knights of his court to see themselves as part of one great nation when they can't even settle on who sits closest to the king at his table? Guided by the wise and magical Merlin, Arthur proves his greatness was no accident of birth but his destiny.


#04 US $16.00 hardcover



EXCALIBUR

"I need a quest!" complains the young King Arthur.
"A knight has more fun than a king." Despite the best counsel of his wizard Merlin, Arthur's rash youthfulness leads him away from his duties and into wild adventures pursuing the Questing Beast, near fatal combat with Pellinore, the fiercest warrior in Britain, and finally to the enchanted realm of Avalon. Ruled by the beautiful and mysterious Lady of the Lake, she offers Arthur her prize possession, the magical sword Excalibur. By accepting this symbol of his great fate in a state of humility he also achieves the true goal of his long journey: manhood.


#02 US $6.00 softcover



AMAZON DIARY

The tale of Alex Winters, a sixth grader from Chicago on his way to visit his parents in South America. When his small plane crashes in the Amazon Jungle he is rescued by a stone-age tribal people known as the Yanomami. The book is made up of the character's diary entries while living with the Yanomami, all based on the authors' own, true experiences. Unique in its collage -style use of photography, illustration, and hand-written text, Amazon Diary re-creates the experience of contact with a quickly disappearing culture from a kid's point of view.


#01 US $15.99 hardcover


O'SULLIVAN STEW

A Tale Cooked Up In Ireland

Kate O'Sullivan has a way with words. When she talks her father and brothers into following her brilliant idea for saving their village they end up in hot water with the king instead. But with blarney and the luck of the Irish going for her, Kate turns to her great power to spin a tale and manages to talk their way out of it. Well,almost! An adventure in the fine art of Irish storytelling, as seen through the eyes an Irishophile.
Hudson Talbott can be reached at hudsontal@aol.com